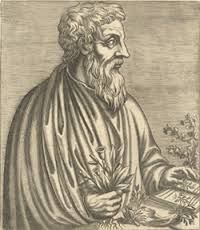 Theraputic Essential oils have been employed for their medicinal valueas far back as 40-50 AD when the Greek physician,pharmacologist and botanist Pedanius Dioscorides described their use in his five-volume pharmacopeia, "De Materia Medica".
They were found to be some of the most powerful disinfectants and germicides in the world,along with being antiviral, antibacterial, antiseptic, antifungal, anti-inflammatory, anti-neuralgic, antidepressant and antioxidant. These oils are felt to influence health and mood through their effect on the olfactory and limbic systems of the brain. The synergy between the aroma and the pharmacologic properties of the oils help mobilize
the immune system and promote healing in the body.
BASIL

Used for soothing sore muscles and joints, to ease breathing, and as a cooling agent for the skin, also used to help treat migranes, stimulate the mind, increase clairity of thought and aid in digestion.

BERGAMOT

Use for depression, respiratory infection, also physical stress.

CHAMOMILE

Use for bee stings, hayfever, jaundice, measles, menopause, PMS, psoriasis, rashes, skin ulcers, teething pain, allergies (skin),

2 Dram Bottle THERAPUTIC GRADE ESSENTIAL CHAMOMILE OIL $15

CINNAMON

Use as antibacterial, antifungal...also use for diabetes, respiratory infection, skin moles, pneumonia, warming, use for cataracts by diluting 1 drop of cinnamon oil in 4 drops of vegetable oil and apply to the bones around the eyes to ease discomfort.

2 Dram Bottle THERAPUTIC GRADE ESSENTIAL CINNAMON OIL $15

CLOVE

Use as antifungal, antioxidant, antiviral, blood clots, painful cavities, corns, fever, herpes simplex, candida, hypothyroidism, lupis, macular degeneration, muscle aches, pain, tooth abscess, tumor, viral infection. Also said to be metally stimulating and creates a feeling of protection and courage

!!!AVAILABLE BY REQUEST!!!

CYPRESS

Used for the rebuilding of the immune system after exposure to radiation..also used to ease breathing as well as a throat gargle. It can be used to ease tight, tense muscles and used topically to support localized blood flow. It builds corpuscles, especially the white cells.

2 Dram Bottle THERAPUTIC GRADE ESSENTIAL CYPRESS OIL $15

LEMON EUCALYPTUS

Use for Asthma, bronchitis, congestion, cooling, coughs, dysentery, fever, flu (influenza), hypoglycemia, inflammation, jet lag, malaria, measles, neuralgia, sinusitis, tennis elbow, tuberculosis.

FRANKINCENSE

Use for relaxation, immune support, arthritis, asthma, carpal tunnel, coma, concussion, confusion, depression, skin infections, inflammation, mental fatigue, skin moles, multiple sclerosis, parkinson's disease, tumor, ulcers, warts, wrinkles, postpartum depression.

Frankincense oil is high in sesquiterpenes, which have been studied for their potential to go beyond the blood-brain barrier and to help oxygenate the pineal and pituitary glands. Frankincense has also been used for disinfecting and stimulating the immune system.

GINGER

Use for diarrhea, gas (flatulence), indigestion, morning sickness, nausea, rheumatic fever, scurvy, vertigo, vomiting.

GRAPEFRUIT

Grapefruit oil has a refreshing aroma that is uplifting to the mind and can help relieve anxiety. It has been known to help depression, drug withdrawal, eating disorders, fatigue, gallstones, jet lag, migraine headacens, premenstrual tension and stress.

Use for appetite suppresant, bulimia, cellulite, overeating...also use for lymph flow and to clean cutting boards and countertops.

OUT OF STOCK

GUARDIAN OF HEALTH

For bronchitis, pneumonia, cold, flu and immune boost. This oil helps to boost the immune system and fights off colds and flu, while killing airborne bacteria that promotes the spread of illness. The essential oils contained in this blend are also known to stimulate circulation and help clear the respiratory system. Use this blend if you have a cold or flu, or want to avoid viruses during the flu season. Highly effective in combating phlegm, pneumonia and bronchitis. Recommended uses for this blend:

In a diffuser for 10-15 mins. Every hour for 4 hours to kill airborne germs and freshen the environment.

Place 2 drops of diluted blend on your chest to reliever cough, cold and bronchitis, pneumonia and to clear phlegm. Rub in gently and feel the respiratory system clearing.

Place 2 drops on lymph nodes to attack viruses. Massage gently

Place 1 drop on the bottom of your feet for an overall body detox and boost your immune system, rub in with gentle massaging motion.

You can also use in small spray bottle and mist the air in home and car.

LAVENDER

Lavender has been called the "universal oil" because it has been known to work wherever there is a need. It is most commonly used as a seditive or to create a calming, peaceful atmosphere. It has also been known to help acne, burns, nausea, stretch marks, infections wounds, headacnes. bruises, sprains and tension.

Use for addictions, airborne allergies, skin allergies, anxiety, blister, boils, chicken pox, dandruff, depression, grief/sorrow, hair loss, insomnia, itching, jet lag, poison ivy oak, scarring, sedative, stress, sleep, teething pain, thrush, vertigo, wrinkles.

LEMONGRASS

Lemongrass oil was used historically not only to help keep insects and bugs away, but also to help fight infectious illnesses. Lemongrass oil has also been used to help with inflammation, digestive problems and to improve circulation.

Use for air purification, carpal tunnel, gastritis, cholesterol, muscle cramps, hyperthyroidism, muscular dystrophy, paralysis, tissue repair, urinary infection varicose veins, whiplash

Also use to support healthy digestion, and soothe aching muscles.

OUT OF STOCK

PATCHOULI

Use for bug repellent, insect repellent. It can have a grounding, balancing effect on the emotions while providing excellent mood support. Patchouli is also widely used for wounds and tissue repair, as well as in skin care preparations for these same properties.

PEPPERMINT

According to mythology when Pluto professed his love for Mentha. Pluto's jealous wife crushed Mentha into the ground. Unable to restore her, Pluto transformed her into a peppermint plant that would give a beautiful fragrance whenever stepped upon again.

Peppermint oil has been used for centuries to soothe digestive diffculties, freshen breath and relieve headaches. Peppermint oil has also been know to help inflammation, nerves, toothaches, motion sickness and feelings of depression.

Use for alertness, airborne allergies, antioxidant, stomach ache, diarrhea, flatulence, antibacterial, antioxidant, asthma, autism, bad breath, chronic fatigue, cold sores, congestion, cooling, abdominal cramps, muscle cramps, energizing, fever, flu (influenza, gastritis, headache, heartburn, heatstroke, herpes simplex, hives, hot flashes, indigestion, IBS, jet lag, migraine, memory, motion sickness, muscle fatigue, nausea, polyps (colon), Radiation, sciatica, sinusitis, ulcer, varicose veins, vomiting....also use to ease breathing.

SANDLEWOOD

Use for coma, confusion, hiccups, laryngitis, Radiation (UV), sunscreen.....most notable for its smoothing effects on skin and for its mood-enhancing properties.

2 Dram Bottle THERAPUTIC GRADE ESSENTIAL SANDLEWOOD OIL $15

VETIVER

Vetiver has many therapeutic uses, including as an antioxidant and for relaxation. Used primarily for ADD/ADHD.

YLANG YLANG

Use for calming colic, hair loss, high blood pressure, hyperpnea, relaxing, stress, tension. It is an effective mood uplifting agent as well as having calming properties.